Cider @ Nationals: Premier Champion!!
09/26/11 - West Bend, WI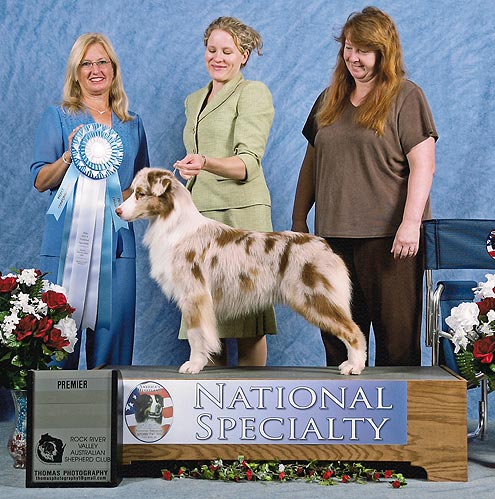 Also at the National Specialty show, Cider was one of three bitches that were pulled for Breed and ended up getting a Premier Champion award under Judge Carol Earnest!!
Cider: Best of Breed!!
08/21/11 - Woodstock, GA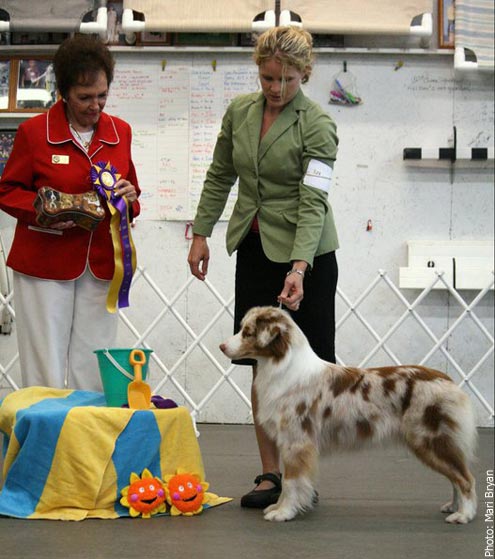 This past weekend (8/20 - 8/21) at the GAASC Heat Is On show in Woodstock, GA, Cider went Best of Breed in three out of the four shows and Best Opposite Sex in the fourth.
Thank you to AKC Judges Jean Fournier (Saturday morning), Carol Chapman (Saturday afternoon), Marlene Burford (Sunday morning), and Dr. Donald Jones (Sunday afternoon) for recognizing Cider.
Congratulations to Cider's breeders, Terra-Blue and Pinnacle Aussies for all of Cider's recent wins.
CIDER: Best of Breed!!
07/11/11 - Knoxville, TN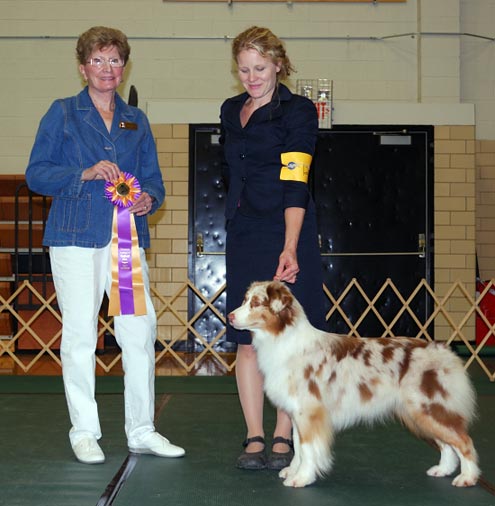 Cider went Best of Breed at the Tennessee Australian Shepherd Club in Knoxville, TN under AKC Judge Carol Chapman. A big thanks for recognizing our girl.
New AKC Champion!!
04/17/11 - Perry, GA
This past weekend (April 20-23), Cider earned her AKC Championship in Perry, GA under judge Larry Adams with all majors, owner handled in just 3 weekends out in open classes! She took her first major March 12th and was finished by April 16th!!! Win pictures will be posted soon!
Cider Best of Breed
04/02/11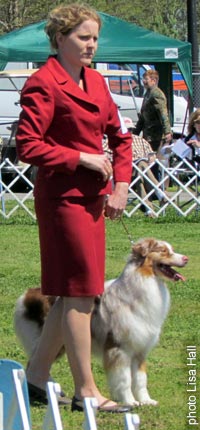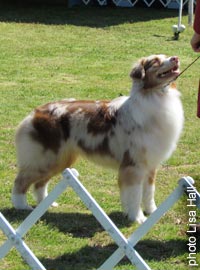 This past weekend, we traveled down to the Newnan, GA AKC show. It was an outdoor show, so we were sort of skeptical about the weather, but we were pleasantly surprised with sunny skies and 70 degrees.
On Saturday, Cider took Winner's Bitch for a 3 point major and then went on to earn Best of Winners and Best of Breed for another point.
She also got her first experience in Groups, and loved it.
On Sunday, Cider took Winner's Bitch AGAIN and Best of Opposite Sex for another 3 points!!!
A HUGE thanks to AKC Judges Margaret A Kurz and Fred C. Bassett for recognizing our beautiful girl. Also, a big congratulations to her breeders, Robin of Pinnacle Aussies and Emmy of TerraBlue.
Cam and Cider come home with 5 POINT MAJORS!
03/16/11 - Franklin, TN
This past weekend (March 10-13), we traveled up to Franklin, Tennessee to the Music City Cluster AKC show. On Saturday, BOTH Cam and Cider earned 5 point majors under Judge Kim Ramey-LeBlanc. Cider also earned Best of Winners. Needless to say, it was an exciting weekend and both dogs showed beautifully. Stay tuned for upcoming pictures.
Cider: Reserve Winner's Bitch
11/13/10 - Priceville, AL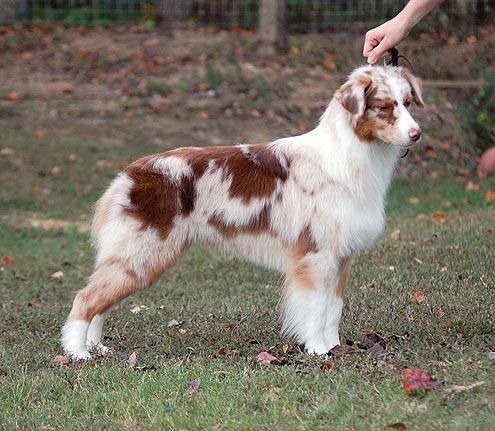 Cider takes Reserve Winner's Bitch at the Priceville, AL AKC show under Judge Carolyn A Herbel.
Another New ASCA Champion!
Woodstock, GA
07/26/10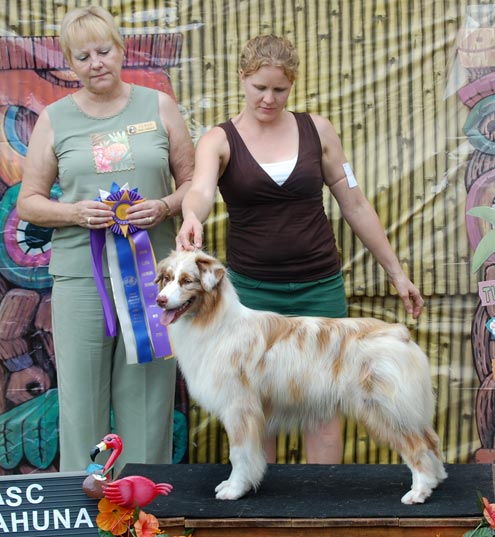 (July 17-18): At the Woodstock, GA "The Big Khahuna Show", Terra Blue Pinnacle Half Pint ("Cider") finished her ASCA Championship under Judge Terry Berrios (AKC) at the very young age of 10 months! She went out with a bang, earning not only Winner's Bitch, but also Best of Winner's AND Best of Breed over quite a few specials.
A huge thanks to Emmy Adasiewicz of Terra Blue and Robin Mulligan of Pinnacle Aussies who has entrusted us with this lovely girl. Also, thanks to everyone who gave me encouragment along the way. Way to go Cider!!.
ASCA Summer Breeze
Canton, GA
06/13/10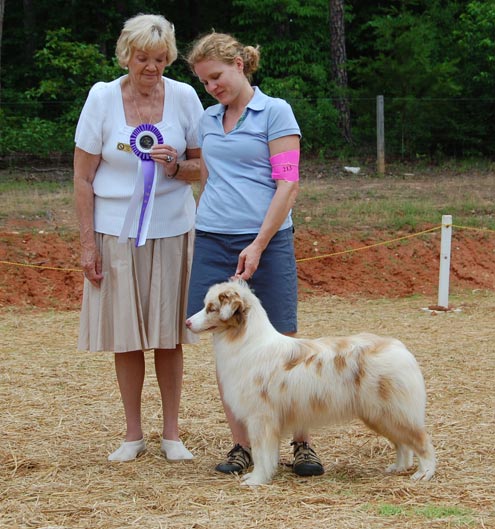 (June 5-6): Cider picked up Reserve Winner's Bitch to a
Three Point Major
on Sunday under Judge Margaret Kurz. Maren also earned two Reserve Junior Handler wins on Saturday. She got lots of show experience handling both Cider and Jackson.
AKC Exciting News!
Perry, GA / Jackson, TN
05/20/10
This past weekend at the Perry Georgia AKC Show (May 13-16), Cider took Reserve Winner's Bitch to a 4 point major! This was her first weekend out in AKC!!!
USASA Nationals
Gray Summit, Missouri
05/20/10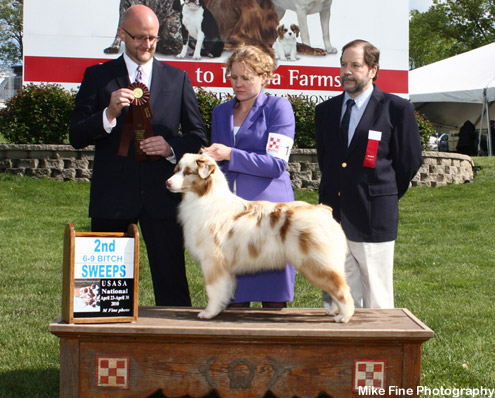 (April 26-30): Cider took second place in the 6-9 puppy sweeps bitch class!!! She was also pulled out in the regular classes later in the week. We had a lot of fun and were able to see tons of beautiful dogs and meet lots of people from all over the US!
Cider is awarded Winner's Bitch and Best of Winners!
GAASC Paw and Thaw (rescheduled)
04/11/10
Sunday, (4/11) Cider was awarded her second major under Judge Susan Landry-Whiticar (AKC)! She is just 7 months old, and with 2 major wins in just two weekends out, you can imagine how proud we are of our girl. Many thanks to Emmy Adasiewicz and Robin Mulligan for entrusting us with this beautiful aussie. Also, congratulations to all the other winners this past weekend.
Cider gets a 5 POINT MAJOR!!
GAASC Spring Fling
03/21/10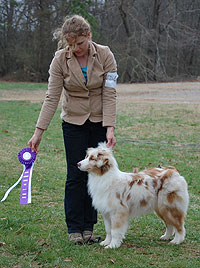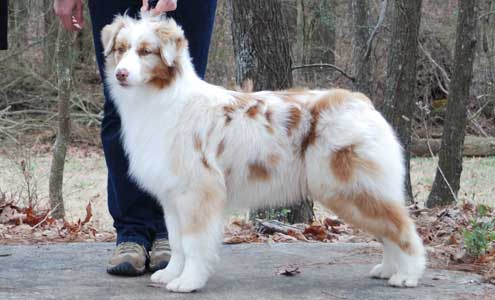 At the GAASC Spring Fling, our little 6 month old puppy bitch Terra Blue Pinnacle Half Pint ("Cider") went Winner's Bitch and Best Opposite for a 5 pt Major under judge Regi Gravette, and Reserve Winner's Bitch under judge Les Alberti!!!!
This was her very first real show, and not only was she awarded 5 points, she just loved it! Thanks to Emmy Adasiewicz and Robin Mulligan for breeding the lovely happy girl!!!!